The company is now a third generation family business established about 50 years ago, initially providing a wide range of automotive parts and associated engineering services. To this day the company continues to trade and flourish within the automotive and transport sector of Trinidad and the wider Caricom Region.
Currently our core activities focus on providing specialized engineering solutions, including New Product Sales, Supply of Engineered Package Equipment, Upgrading and Refurbishment of Water and Waste Water Treatment Facilities, Preventative, Routine, Breakdown and Turnaround Maintenance of Rotating Equipment, Fabrication of Structural Steel and Piping Systems and Machine Shop Services to customers in the Energy, Petrochemical, Power, Steel and Process Industries.
We are now ISO 9001:2015 certified, and have been ISO 9001 certified since November 12th 2001, and more recently STOW-TT ( local alternative to ISO 18001) certified. Quality, health, safety, and environmental awareness are completely engrained within our working culture, regardless of the changing circumstances that we constantly face.
Our longevity in business, desire to continually diversify synergistically, low turnover of staff and our ability to develop long term partnering agreements with the majority of our major clients, has been the catalyst for continued success. We look to the future with reassuring optimism.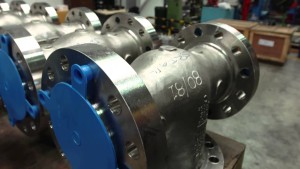 ---
Chairman - Nirmal Rampersad
Mr. Nirmal Rampersad is the Owner and Chairman of D. Rampersad & Company Limited. He is a Trinidad National, with creative business ideas who delivers results through his effective leadership skills and innovation.
His commitment and dedication to achieving the organizational objectives through the company's vision and mission are immense and are all backed up by his considerable entrepreneurship.
Financial stability, retention of employees, succession planning and successful business diversification has occurred under his close stewardship. Mr. Rampersad has also held directorships on other major Public and Private Company Boards and has always been heavily involved in local community work.
---
Director & Business Development Manager - Mr. Avinash Rampersad
Avinash has been with the company for the past 15 years, during which he has spent time working in all aspects of the business.
A lawyer by profession, Avinash puts his energetic personality to excellent use in developing and nurturing key strategic relationships with our Clients and associated Business Partners.
Avinash has been and continues to be instrumental in ensuring that the Company stretches the boundaries in terms of achieving the Company's Mission and Vision.
---
General Manager - Mr. Martyn Killingbeck
Martyn has been working with the Company for approximately 20 years, during which time he has developed, led and implemented major process management change initiatives to establish the Company as a National market leader in the delivery of its business.
UK apprentice trained, as well as a qualified professional, he imparts considerable engineering and managerial knowledge to his close knit team of self-empowered, multi-skilled and well motivated individuals.
Martyn's broad based business experience, desire for growth and risk management awareness bodes well in ensuring the Company continues to diversify within a stable business environment.